Rent a car at Analipsi Crete

Analipsi has lovely beaches for swimming and a delightful little white and blue chapel named Agia Marina sitting out on the point. In the western part of the beach of Analipsi there is the river mouth of Aposelemis. The river of "Aposelemis" is a natural border dividing the Municipality of Hersonissos and the Municipality of Gouves. In its delta there is an important wetland, integrated in the National Center of Biotopes and Wetlands.
Analipsi itself has a fine full-service beach, with sun loungers and umbrellas and beachside drinks service, as well as plenty of water sports options. But part of the joy of having a car is being able to pick the perfect beach for you, and there are many choices nearby.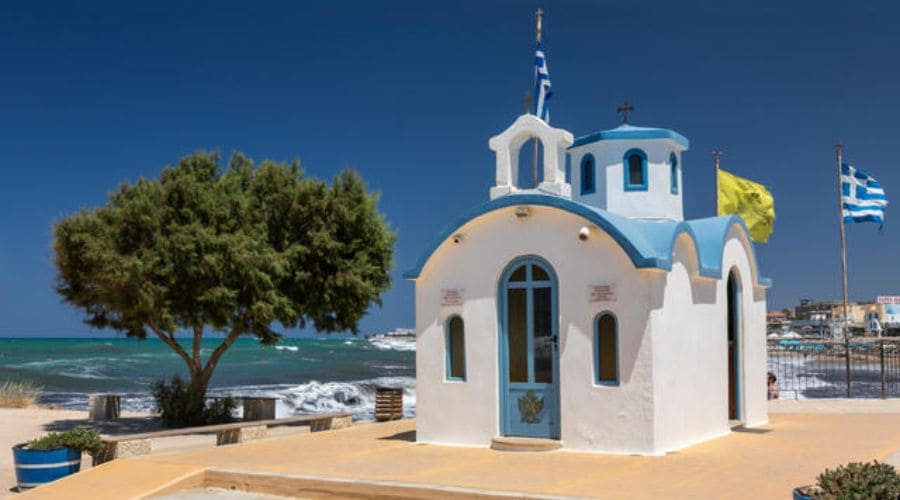 Analipsi
Analipsi, also called Analipsis, is located in the northeastern part of Crete, approx. 20 km east of Heraklion and only 5-6 km northwest of Hersonissos. It is a beautiful tourist area that preserves several traditional elements.
There are several sections with sun lounges and sunshades, both for the visitors at the hotels and for people visiting the beach from outside. There are showers and toilets at the beach. 
The beach in Analipsi is more than one kilometre long and of various widths. The majority of the beach is covered with sand, some places mixed with gravel and a few pebbles. The water is clear but deepens rather fast.
Analipsi is less developed in the tourist sector compared to the surrounding areas. The main road of Analipsi crosses the area vertically from the Former National Road Heraklion - Agios Nikolaos and is approximately 1km to the beach. Along the street, there are tourist shops and supermarkets. The choices of restaurants and taverns in the village are numerous. There is also a beautiful paved square and a palm tree in the centre. The visitor can walk among the traditional narrow streets of the old part of Analipsi village and enjoy the beautiful gardens as well as discover the beautiful places of the village.
Analipsi is known for its beautiful, little church, which stands very close to the water. In Analipsi, there are also several hotels and rooms to rent that meet the needs of the visitors while, simultaneously, the village of Analipsi is an ideal and quiet place for family holidays.
Car rental in Analipsi Crete
Gouves car rental Analipsi
offers you a wide range of rental cars to suit your trip. Our fleet is made up of modern and fully equipped rental vehicles. From small cars for getting around the city, economical medium-sized and minivan cars for travelling with family or friends, or SUVs for venturing further afield, Jeeps and buggies.
Analipsi rent car
Having your own car gives you a certain level of comfort that just simply isn't there with public transport, especially if you're with the family and Analipsi is ideal place to collect your hired car and start your tour around the island to discover and explore the magnificence of Crete.
Renting a car is the more economical choice when travelling in a group.
And yes, it's generally cost-efficient, even with car rental insurance and gas factored into the equation. Moreover, travelling with small children on public transit can sometimes be a headache and make your vacation more stressful.
Rental car Analipsi with Gouves car rental
Rent a car in Analipsi
with Gouves car rental to find discount car rates and a low cost car fleet of new and well equipped
rental cars
for your summer holidays in Analipsi, Crete.
Analipsi rent a car team wishes you an excellent trip and, to this end, we work hard to guarantee that you are offered the very best rental car options in Analipsi Crete Greece.