Rent a car Kokkini Hani
Rent a car Kokkini Hani
, Crete by Gouves car rental, a car rental company, that deal with tourists since 1992, is the best way to get to know the island and discover all its secrets.
Gouves car rental
in Kokkini Hani offers excellent and economy car hire service with quality autos and low-cost car hire rates.
The island of Crete extends 260 km from east to west, is 60 km at its widest point and narrows to as little as 12 km near Ierapetra. Crete covers an area of 8,336 km2 (3,219 sq mi), with a coastline of 1,046 km facing to the north the Sea of Crete and the Aegean to the south, the Mediterranean Coast of Africa.
Heraklion has the major airport in
Crete
. Nikos Kazantzakis international Heraklion airport, Crete was named after Nikos Kazantzakis a great author who was born in Heraklion Crete.

Kokkini Hani


 Kokkini Hani resort is 13 kilometres away from the airport of Heraklion, The name of the site means "Kokkinis's Inn" and is taken after an inn that operated here in the early 1900s, by someone called Kokkinis. This inn was popular to the travellers, who stopped at this point to spend their night during their journey to Heraklion.
The area has many beaches, protected by small artificial piers. The beaches are sandy and have shallow turquoise water. Most beaches are formed in front of hotels, but access is open to everyone.
Kokkini Hani in Heraklion is very popular because of its beautiful hotel complexes and sandy beaches. It is a well-known resort with numerous taverns, bars, shops, and restaurants in addition to numerous other lodging options. The resort's fully organized beach features a variety of water sports and all of the necessary amenities.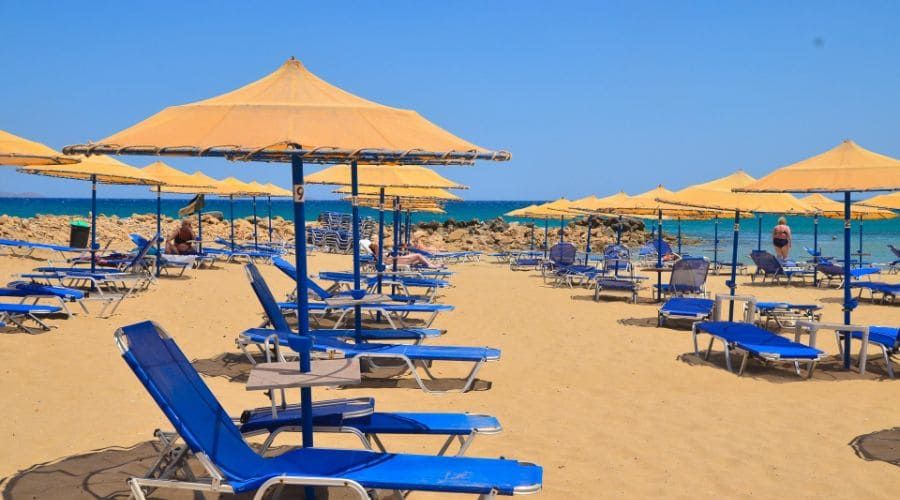 Car rental Kokkini Hani
Best places to visit with your rental car are: Cretaquarium, Planetarium, and Dinosauria, as well as the renowned Palaces of Knossos and Malia and the archaeological museum of Heraklion, are all within a 15-minute drive. There are many other local attractions that will pique your interest and imagination.
 The Niros Minoan Antiquities are a mansion that served as the residence of a senior Minoan priest and is located in the resort's centre. This mansion is directly across from the location where you can snorkel and look for hidden gold! The late Minoan site is open to the public and provides a good opportunity to observe how a Minoan religious structure was constructed 4000 years ago. 
There are three long, soft-sand beaches on the rugged coast with a crystal-clear water and numerous shallow natural "pools" for younger children. The largest organized beaches—Arina Sand and Rinella Beach—are located at each end of the resort. These beaches have lifeguards on duty, sun loungers, umbrellas, water sports, and a lively atmosphere. 
Arina Beach is a shore that you should definitely add to your list of beaches to visit in the area. It is located just a few kilometres west of Kokkini Hani. Is a favourite beach among young families due to its high level of safety. The beach is well-organized, and drivers will be pleased to learn that there are also parking spaces available.
Sunbeds and umbrellas can be rented from the beach bar, where you can also get a cold drink and some snacks.
Kokkini Hani with a rented car from Gouves car rental
Gouves car rental offers value for money car rental rates for car hire in Crete. Book your rental car by Gouves car rental on Crete and let the rest on us !!
It is essential to reserve your rental car well in advance when visiting Crete. Crete is a popular vacation spot, and especially in the summer, there is a lot of demand. If you try to find a car at the last minute, you might not be successful. Additionally, prices will be significantly higher if a car is available.
Book online through our secure online system your next rental car on Crete, Greece.
We offer free delivery and pick up service for Heraklion prefecture car hire.
Our office offers great prices on all
car types
such as:
economy cars
, family cars, jeeps, cabriolets, mini-vans, automatic cars, SUVs, intermediate, diesel and buggy
When you rent a car in Kokkini Hani from Gouves Car Rental, you get the following standard pricing: Unlimited mileage, no-risk full insurance, service and roadside assistance round-the-clock, and a free additional driver